Sariel Beckenstein and Jerry Fishman

Annual Gala

Saturday, February 13

Join us at 8:00 PM for an ONLINE event honoring our talented musical team -

Music

Online Journal

Raffle Prizes

Tributes

To register and receive the Zoom link, purchase raffles and place your journal ad CLICK HERE
---
Rabbi's Weekly Message
January 15, 2021
2 Sh'vat 5781
Parashat Vaera
Exodus 6:2 - 9:35
Dear Friends,
Last week, we examined what makes a good leader, as we were introduced to Moses on the beginning of his journey to becoming the leader of the Jewish people.
This week our attention is drawn to the worst kind of leadership as embodied in Pharaoh. His actions make clear that the people he leads have little or no bearing on the decisions that he makes.
In his essay on this week's Torah portion, Rabbi Shai Held writes that freedom needs to be cultivated and questions when character is destiny. Vaera is the story of the first seven plagues descending upon Egypt. One of the key questions that our sages have raised about this story is to what degree did Pharaoh have agency in his decision making process, given that by the seventh plague God had hardened his heart.
---
Mitzvah of the Week
Martin Luther King, Jr. Day of Service
January 18, 2021
"Our tradition says that 3 million Israelites left Egypt on foot, yet we know only a handful of the names of the righteous resisters, organizers, and spokespeople who effected our liberation from Egypt. Many more of the names of the heroes of the civil rights movement we celebrate this weekend are known to us: Claudette Colvin, Bayard Rustin, Fannie Lou Hamer, along with dozens of other organizers, activists, and thinkers. But many of those names are unknown, or not counted among the heroes. This Martin Luther King Jr. Day, let's hold in our memories the unnamed millions of heroes of a movement that changed our country and the world, who the Rev. King was privileged to represent. Although none of us is Moses and none of us is the Rev. King, may we yet live up to the memories and legacies of those known and unknown who walked before us in justice, the midwives of redemption." Rabbi Ariann Weitzman
According to AMERICORPS, "MLK Day is the only federal holiday designated as a national day of service to encourage all Americans to volunteer to improve their communities." We encourage you to take that concept one step further, and use this day as a point of reflection and inflection when we think about what each of us can do to continue to improve our communities. Remembering Dr. Martin Luther King, Jr. is not a one-day event. The day is an entry point to learn about and discuss various issues, and an opportunity to get re-energized so we can keep working. Here are some online opportunities to engage:
Judaism and Justice: A Morning of Meaningful Learning in Honor of MLK Day
UJA Federation, in partnership with the The Shalom Hartman Foundation, is sponsoring a virtual slate of sessions from 9am to 12pm that will discuss communal responsibility, Dr. King's powerful writing as seen through the lenses of Jewish text and thought, wellness as seen in Torah and in the social justice sphere, how we can comfort the ill, bereaved, and socially isolated right now, and racial disparities in the healthcare system. Click HERE to register.
The Riverdale Y is hosting two sessions in the afternoon:
Food Justice, 3pm - Join teams from the NW Bronx Food Justice Project and the Riverdale Y Senior Center as they discuss what they are doing to address food insecurity and how the community can get involved. Click HERE to register.
Climate and Environmental Justice Workshop, 4pm
Join a conversation with local representatives from the Jewish Climate Action Network (JCAN) and other Riverdale climate and environmental advocates to explore new laws and opportunities for action, as well as find out what you can do locally to support composting, recycling, and other ways to care for the environment during the pandemic. Click HERE to register.
WE ARE HERE FOR YOU
We are still gathering to welcome and celebrate Shabbat.
Please renew your membership, join for the first time or make a donation.
Thank you and see you on ZOOM
YOM KIPPUR APPEAL
Your support is critical to our efforts to both innovate and support one another.
For those who have not yet donated, you can pay ONLINE or send a check to:

Congregation Tehillah
PO Box 109, Riverdale, NY 10463.
Hebrew School
מַה טּוֹבוּ אֹהָלֶיךָ יַעֲקֹב מִשְׁכְּנֹתֶיךָ יִשְׂרָאֵל
Hebrew School Registration
Worship
Join us ONLINE every Friday evening and for Kabbalat Shabbat to sing, pray and enjoy each other's company.
Check the calendar for innovative morning Shabbat services: Tot Shabbat for families with young children, meditative walk and learning service.
Tikkun Olam
TEHILLAH IN THE WORLD is our commitment to social action through:
Bend the Arc
Circle of Support
Interfaith Connections
Riverdale Jewish Unity
Working closely with refugees.
Social Media


In this Episode:
Our reflections on 2020, as we conclude the book of Genesis and the calendar year
Where we feel most compelled to invest our energy and resources in the next year
What we have learned about what is important to us
What we want to hold onto from the past year
Our hope for the coming year
Covid-19
Presented by Helena McHugh - Student Board Member
On October 9, 2020, Rabbi Linda Shriner-Cahn participated in an interfaith event at Manhattan College. The event offered prayers of hope and support for those who have been affected by COVID-19. To watch the video of the whole event, click here.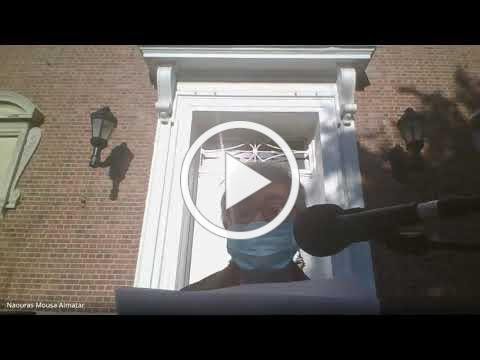 Mission Statement
At Congregation Tehillah, we search for meaningful and just expressions of our Judaism in today's world. We invite you to come as you are, bringing your unique story. We are a Jewish community where music, learning and spirituality come together. We are committed to an environment in which all are welcome wherever they or their families find themselves on their Jewish journey, inclusive of any age, race, orientation, gender identity, ability, and economic status.
Fri, January 22 2021 9 Shevat 5781