Our Mission
At Congregation Tehillah, we search for meaningful and just expressions of our Judaism in today's world. We invite you to come as you are, bringing your unique story. We are a Jewish community where music, learning and spirituality come together. We are committed to an environment in which all are welcome wherever they or their families find themselves on their Jewish journey, inclusive of any age, race, orientation, gender identity, ability, and economic status.
Rabbi's Message
October 15, 2020
27 Tishrei 5781
Bereshit
Dear Friends,
Tohu wa-bohu or Tohu va-Vohu (תֹ֙הוּ֙ וָבֹ֔הוּ) describe the state of the universe at the very beginning. The King James Bible translates the phrase as "without form and void" while the JPS Tanakh translates it similarly as "unformed and void." In another scholarly pairing, Everett Fox translates it as "when the earth was wild and waste" while Robert Alter's recent translation continues along the same lines with "the earth then was welter and waste." Tohu on its own means emptiness or futility. This phrase appears elsewhere, but only in reference to the original in Genesis.
Why focus on this phrase that appears within the very first sentence of our Torah? The alliteration has always caught my attention. I invite you to say it out loud and allow yourself to go with the feeling that it evokes. For me it has always evoked a sense of messiness, of untidiness in the most chaotic manner. It evokes an image of things swirling around in a random manner.
---
Yom Kippur Appeal

Your support is critical to our efforts to both innovate and support one another during these uncertain times --
which we have already done and continue to do.
We thank all of you who have already sent contributions.
For those who have not yet donated, you can pay ONLINE
Or send a check to Congregation Tehillah
PO Box 109, Riverdale, NY 10463.
VOTE
If you can, we encourage you to go to the polls in person to cast your vote. Early voting runs from OCT 24 to NOV 1.
If you are planning on voting via absentee ballot, visit the NYC Board of Elections page, which includes a link to request your ballot electronically. Remember, there may be delays and other difficulties in delivering absentee ballots, so you should request your ballot as soon as possible. You can also drop your ballot off at the polling place on Election Day.
Hebrew School
מַה טּוֹבוּ אֹהָלֶיךָ יַעֲקֹב מִשְׁכְּנֹתֶיךָ יִשְׂרָאֵל
Hebrew School Registration
Worship
Join us ONLINE every Friday evening and for Kabbalat Shabbat to sing, pray and enjoy each other's company.
Check the calendar for innovative morning Shabbat services: Tot Shabbat for families with young children, meditative walk and learning service.
Tikkun Olam
TEHILLAH IN THE WORLD is our commitment to social action through:
Bend the Arc
Circle of Support
Interfaith Connections
Riverdale Jewish Unity
Working closely with refugees.
Mitzvah of the Week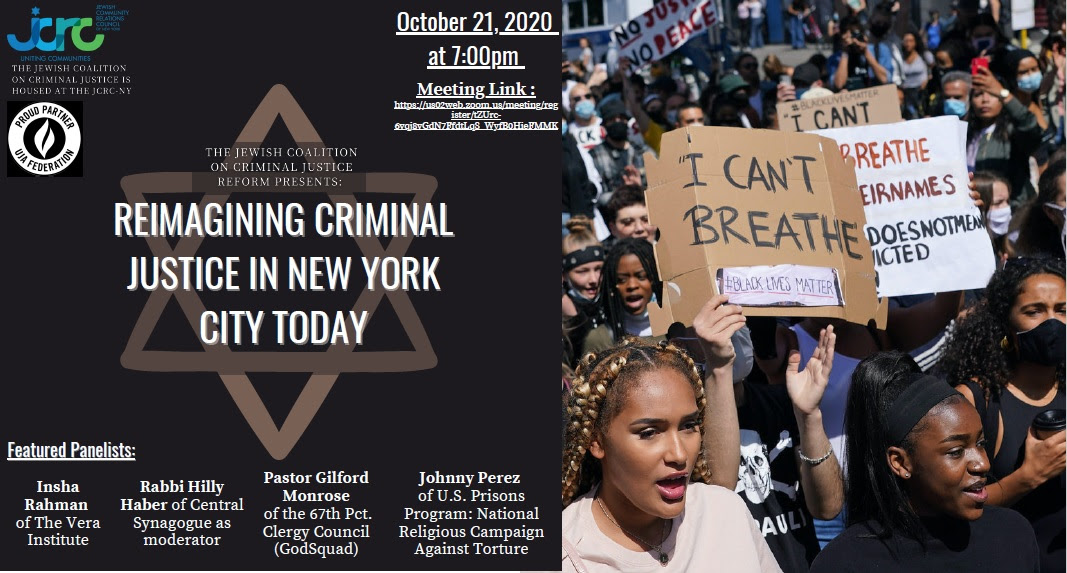 If you are looking for an issue to engage with that can make a difference in people's lives, please attend the following event, "Reimagining Criminal Justice in New York City Today." It's our city -- we need to learn more about the issue so that we can participate in the discussion and help to effect change.
Click here for more information.
Social Media

In this episode of Tehillah Talks, we discuss recent demonstrations, racism, and our role as Jews and as people in pursuing justice.
How are teens are coping during the pandemic
Our views about justice
How to create real change
Our responsibility as Jews to pursue justice
Around Town

The Riverdale Y is offering two outdoor exercise classes to the community. On Sundays, participants meet for outdoor training, which is a mix of strength and cardio, at the Riverdale Y Sunday Market at 8:00am. On Thursdays, you can take the Zumba class, which meets in back of the Riverdale Y at 6:00pm. Classes are limited to 10, and registration is required.
Go to www.RiverdaleY.org/outdoor to reserve your spot.

Yasher Koach
Our very own Shira Silverman was honored in the recent Riverdale Press supplement as an "unsung hero" for her work to make the Riverdale Y Sunday Market happen.
For Teens
Join the Riverdale Y, Washington Heights and Tarrytown communities for Teens Care: A Social Justice Film Series every Tuesday evening in October and focusing on four key areas chosen by this year's Manhigut Institute Interns -- gun violence, racial justice, education reform, and global warming! After each film, we'll hear from a guest speaker and discuss how we can make a difference as a community and as individuals. Register and learn more at http://ywashhts.org/Teens-Care-A-Social-Justice-Film-Series.
On the evenings of October 8, 15, and 22 from 7:00 to 8:00 pm, the Riverdale Y will explore the history of women's suffrage; the logistics of voting and voter registration; how women's rights relate to social, political, and economic issues; and choosing a candidate that represents your values. If you have a teen in your life who may be interested in this free workshop, please ask them to register here.
Tue, October 20 2020 2 Cheshvan 5781