Mission Statement
At Congregation Tehillah, we search for meaningful and just expressions of our Judaism in today's world.
We invite you to come as you are, bringing your unique story. We are a Jewish community where music, learning and spirituality come together.
We are committed to an environment in which all are welcome wherever they or their families find themselves on their Jewish journey,
inclusive of age, race, orientation, gender identity, ability, and economic status.
---

Save the Date: 2/29/2020
Click HERE to reserve your seat and place an ad in our commemorative journal.
THANK YOU for supporting our congregation.
---
Hebrew School
מַה טּוֹבוּ אֹהָלֶיךָ יַעֲקֹב מִשְׁכְּנֹתֶיךָ יִשְׂרָאֵל
Hebrew School Registration is now open:
Worship
Join us every Friday evening for Kabbalat Shabbat to sing, pray and enjoy each other's company.
Check the calendar for innovative morning Shabbat services: Tot Shabbat for families with young children, meditative walk and learning service.
Tikkun Olam
TEHILLAH IN THE WORLD is our commitment to social action through:
Bend the Arc
Circle of Support
Interfaith Connections
Riverdale Jewish Unity
Working closely with refugees.
Sunday, February 2
Sunday, February 9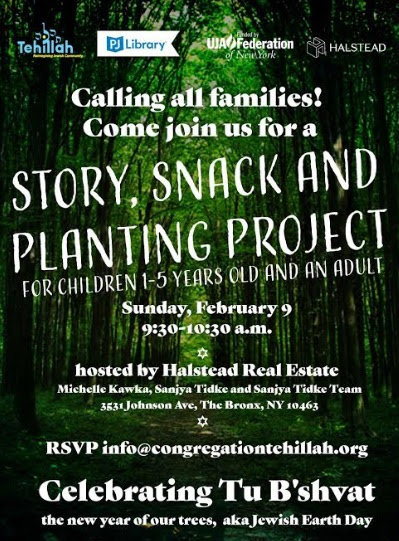 Mitzvah of the Week
This week's Torah portion relates how the people were able to remember together who their distant ancestors were. In light of this portion, tell someone a treasured family story and in turn, listen to theirs. Sharing stories among ourselves may seem like a simple act, but it is one rich with meaning. The power of listening and telling cannot be underestimated.
Social Media
In this episode of Tehillah Talks, we find ourselves at a crossroad at the beginning of a new decade. We discuss:
-The toxic nature of indifference
-Anti-Semitism and its resurgence
-How to respect differences in others
-How do we deal with obstacles?
-Identifying our commonalities
-Grappling with what we can do to make a difference
Now available on Apple Podcasts
Check us out on INSTAGRAM
And follow us on FACEBOOK
Around Town
The Sarah Lily Fund provides two $5,000 grants annually to help defray some of the many costs of forming Jewish families in this vital way. Applications are due November 30. For additional information, as well as the application form, please visit http://www.riverdaley.org/sarahlily.
Rabbi's Message
Parashat Va'era
Exodus 6:2 - 9:35
As we approach the 75th anniversary of the liberation of Auschwitz, a wide array of world leaders are gathered in Israel in commemoration of that historic event. We read again and again that the history of the Holocaust is not widely known. Even some of the comments of these world leaders give truth to that assertion. Why is it so hard to remember a difficult past? What causes us to turn our heads away?
Tue, January 28 2020 2 Shevat 5780