Mission Statement
At Congregation Tehillah, we search for meaningful and just expressions of our Judaism in today's world. We invite you to come as you are, bringing your unique story. We are a Jewish community where music, learning and spirituality come together. We are committed to an environment in which all are welcome wherever they or their families find themselves on their Jewish journey, inclusive of any age, race, orientation, gender identity, ability, and economic status.
Hebrew School
מַה טּוֹבוּ אֹהָלֶיךָ יַעֲקֹב מִשְׁכְּנֹתֶיךָ יִשְׂרָאֵל
Hebrew School Registration is now open:
Worship
Join us ONLINE every Friday evening and for Kabbalat Shabbat to sing, pray and enjoy each other's company.
Check the calendar for innovative morning Shabbat services: Tot Shabbat for families with young children, meditative walk and learning service.
Tikkun Olam
TEHILLAH IN THE WORLD is our commitment to social action through:
Bend the Arc
Circle of Support
Interfaith Connections
Riverdale Jewish Unity
Working closely with refugees.
Shavuot
Thursday, May 28



Shavuot begins on Thursday evening and continues through Shabbat.
RSVP is required for



Thursday, May 28

We will be joining with the Riverdale Temple to pray and study together as in years past.
Services will begin at approximately 7:00pm followed by study at 7:40pm, led by Rabbi Gardner & Rabbi Shriner-Cahn.
Friday, May 29
6:00 PM
Join us for a special Friday night service celebrating first fruits, followed by virtual community Shabbat dinners. This event is an opportunity to join with others to celebrate this spring holiday.
What you need to bring to this event: your household, wine or grape juice for kiddush, and an object in your home that makes you think of spring that you are willing to tell others about. And of course dinner, but luckily you need only cook for your own household. You won't even have to make dessert for your guests!
Saturday, May 30
10:30 AM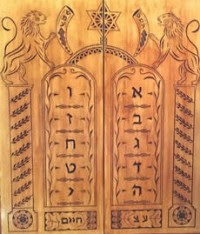 As we celebrate Shavuot, we will be reading about the giving of the Ten Commandments. Shavuot is one of the pilgrimage holidays when everyone journeyed to Jerusalem and celebrated the barley harvest.
It is also one of the times during the year when we recite the Yizkor prayers, prayers of remembrance of those we have lost. The service will include a special Yizkor for all who have been lost over the last few months, along with our own loved ones.
Shabbat Online
Rabbi's Message
Yom Yerushalayim
43rd day of the Omer
Parashat Bamidbar
Numbers 1:1 -- 4:20
This week we begin a new book of the Torah. In Hebrew the name of this book and this portion is Bamidbar, commonly translated as "in the wilderness." In English it is known as the Book of Numbers because it begins with a census. At first glance the thought of a census is mind numbingly boring. Why does it matter that we count people? Who cares? What difference does it make?
Always in our Hearts
Tehillah member Illana Abramson dedicated her life's work to improving the lives of those with disabilities, from infants to young adults. She had a unique gift of finding the spark within each soul and was passionate about her work.
To honor and celebrate her life the family is requesting donations to Beit Issie Shapiro, an organization in Israel dedicated to promoting the quality of life for people with disabilities both in Israel and internationally. The organization works with a wide global professional network, including the United Nations, to expand services available to those with disabilities and their families.
Donations can be made through the Beit Issie Shapiro website
https://en.beitissie.org.il/donate/
In The News

Faith Leaders Find Strength in Community
by By JULIUS CONSTANTINE MOTAL
Posted
Rabbi Linda Shriner-Cahn has found strength and wisdom in her parents' surviving the Holocaust to keep going in the midst of the coronavirus pandemic.​​​​​​​
Mitzvah of the Week

As New York State reopens, and more people are out and about, let us remember, to quote Dan Levy, that wearing a face mask is an act of kindness.
We wear masks to protect the vulnerable among us: those with underlying health conditions, those with compromised immune systems, and those who are 70 and older. We also wear masks to protect those who seem less likely to become severely ill -- the younger patients who end up on ventilators due to a cytokine storm, or the children who develop organ failure due to the virus.
We wear masks as caring members of our community, and the global community at large. Please do everything you can to contain this pandemic -- wear a mask.
If you want to read more of what Dan Levy had to say, go to: https://www.yahoo.com/lifestyle/schitt-creek-dan-levy-urges-072225551.html.
Social Media
"Creating a Web of Community in Crisis?"
Our insightful podcast is perfect for listening to while you're at home during the quarantine. Let your mind travel -- click on the link below now!
Now available on APPLE PODCASTS
Check us out on INSTAGRAM
Follow us on FACEBOOK
Watch us on YOUTUBE
Click https://tehillahtalks.blubrry.net/ to listen to the most recent episode.​​​​​​​
Our 20th Episode is Here

In this episode of Tehillah Talks, we discuss Judaism as a guidepost to navigate coronavirus. We discuss:
Culture wars and personal values
How a crisis transforms our worldview
How Judaism can be a guidepost for our behavior in a crisis
Why we want purpose and meaning in a world where chaos is constantly emerging
Around Town
DOROT's prestigious Summer Teen Internship Program at Riverdale Y inspires high school students to develop leadership skills and to give back to the community. Volunteer with a diverse group of socially-conscious high school students to facilitate intergenerational programs with the Riverdale Y Senior Center. Learn more and apply at www.RiverdaleY.org/dorot
The Canavan Foundation reminds us that even during a time of shelter-in-place and social distancing, timely and complete screening for Jewish genetic diseases is vitally important for anyone of Jewish heritage planning to start or add to a family. Ideally, you should be screened prior to pregnancy. You can call your doctor to discuss screening, or go to JScreen to learn about at-home access to their screening service. Click HERE for a digital brochure from the Jewish Genetic Disease Consortium, or you can visit their website for more information.
Amazon Smile
These days, everyone is ordering more online. Please remember that Congregation Tehillah is part of the AmazonSmile program. You can easily support our synagogue if you already purchase through Amazon, by visiting https://smile.amazon.com/ch/13-4165869. Amazon will donate 0.5% of the price of eligible AmazonSmile purchases to Congregation Tehillah.
Thu, May 28 2020 5 Sivan 5780