Mission Statement
At Congregation Tehillah, we search for meaningful and just expressions of our Judaism in today's world.
We invite you to come as you are, bringing your unique story. We are a Jewish community where music, learning and spirituality come together.
We are committed to an environment in which all are welcome wherever they or their families find themselves on their Jewish journey,
inclusive of age, race, orientation, gender identity, ability, and economic status.
---
Hebrew School
מַה טּוֹבוּ אֹהָלֶיךָ יַעֲקֹב מִשְׁכְּנֹתֶיךָ יִשְׂרָאֵל
Hebrew School Registration is now open:
Worship
Join us every Friday evening for Kabbalat Shabbat to sing, pray and enjoy each other's company.
Check the calendar for innovative morning Shabbat services: Tot Shabbat for families with young children, meditative walk and learning service.
Tikkun Olam
TEHILLAH IN THE WORLD is our commitment to social action through:
Bend the Arc
Circle of Support
Interfaith Connections
Riverdale Jewish Unity
Working closely with refugees.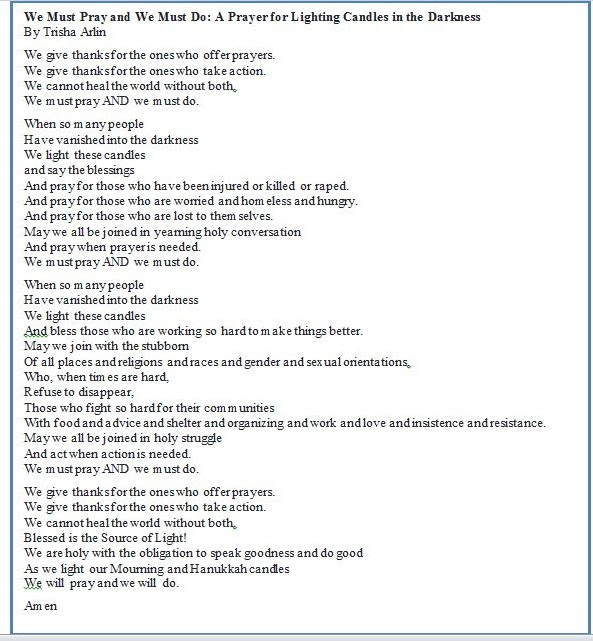 ---
Mitzvah of the Week
We mourn the four individuals murdered last Tuesday in Jersey City. They were: Mindel Ferencz, co-owner of the kosher supermarket; Moshe Deutsche, rabbinical student; Douglas Michael Rodriguez, who worked at the supermarket; and Detective Joseph Seals, who was killed by the assailants prior to the attack on the supermarket.
These are a few ways that we can honor the dead:
Douglas Miguel Rodriguez's family set up a GoFundMe page to raise money for funeral expenses and to send his body home to Ecuador. Go

here

to donate.
You can Google other fundraising efforts for the Ferencz family and the family of Detective Joseph Seals. Be very wary of scams that seem to be proliferating in the wake of this tragedy.
We will come together as a community on Sunday, December 15, at 3pm at the Riverdale Monument (event organized by HIR and CSAIR).
Rabbi Linda Shriner-Cahn invited members of the greater Riverdale community to join us to mourn the lives lost. We encourage you to invite your neighbors to Shabbat services tonight.
---
Social Media
Our latest episode of Tehillah Talks will be available on December 1.
In this episode of Tehillah Talks, we look at "Love thy neighbor as thyself" (Leviticus 19:18), and "If I am not for myself, who am I, and if I am only for myself, what am I, and if not now, when?" (Pirkei Avot 1:14)
ow available on Apple Podcasts
Check us out on INSTAGRAM
And follow us on FACEBOOK

Rabbi's Message
Parashat Vayishlach
Genesis 32:4 - 36:43
It is good to begin my weekly thoughts and reflections with a prayer written from the heart. It has been a very difficult week in the world, in both word and deed. I write in the wake of having gone to two conferences, one on anti-Semitism and the other on how to combat it as teachers, particularly on how to recognize trauma and respond appropriately.
Sat, December 14 2019 16 Kislev 5780